San Francisco 49ers running back Raheem Mostert is clearly frustrated with the narrative surrounding his future. He is 29 years old and is coming off an injury-plagued 2020 campaign. Although, in his defense, it feels like the entire 49ers roster was impacted by injuries last season, so it's not really fair to single out Mostert.
Mostert wears a brace during practices. However, it has nothing to do with the injuries that limited the running back to eight games last season. He just wants to clear that up.
I'm going to address this one time and one time only. I am NOT injured and to the media trying to make something out of NOTHING, I won't allow it. I wear a knee brace in practice for PREVENTION and for my LONGEVITY in this league. I had this brace made YEARS AGO and wore…

— Raheem Mostert (@RMos_8Ball) July 30, 2021
it in other training camps/practices. Why is it a focus now? I won't allow you to put me into your "hole" of being old, washed up, and injured. I'm just getting started!!

— Raheem Mostert (@RMos_8Ball) July 30, 2021
It's unclear if Mostert is responding to a specific report or just his critics in general. Nothing regarding his use of a brace in practice immediately comes to mind.
Earlier this offseason, one beat writer, Matt Maiocco of NBC Sports Bay Area, speculated that the 49ers could be tempted to trade Mostert, but that had more to do with the impressive depth added at the position rather than any criticisms directed at Mostert.
"I mean, Raheem Mostert could easily be the team's best running back," Maiocco added. "He could be a 1,200-yard rusher."
Mostert also addressed his brace while speaking with reporters on Thursday.
"I've been wearing this brace, even two years ago, when I had gotten an MRI," Mostert said. "It was just a longevity aspect. I intend to play this game for another four, five, six years, if I can. So, anything that helps prevent my career being shortened, I'm going to take those measures. That's the sole reason why I wear the brace, not just because I'm hurt or anything like that. I just take precaution."
Mostert only wears the brace during practices and doesn't feel it impacts his preparation for game days.
"When that brace comes off, you see me flying out there, going full tilt like I never even had it on," Mostert added. "I love that feeling, and I'm just going to stick with it."
More San Francisco 49ers News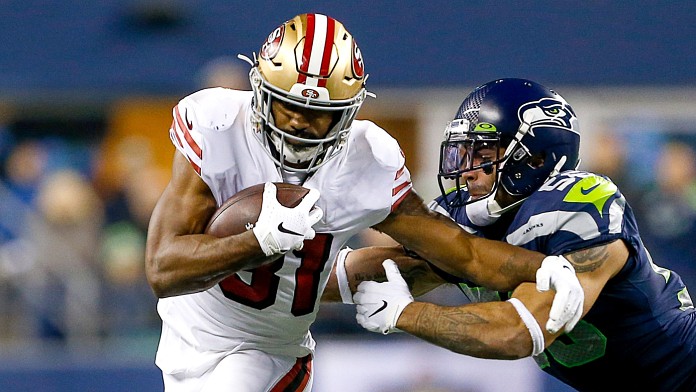 Beat writer wonders if offseason additions could tempt 49ers to trade Raheem Mostert
By David Bonilla
Jul 19, 2021
The San Francisco 49ers should feel good about their running back depth. On their latest 49ers Talk podcast, Matt Maiocco and Laura Britt of NBC Sports Bay Area took a look at the team's offseason veteran additions and departures. When they landed at the running back group, Maiocco wondered if there is too much depth.
Obviously, there is the argument that there is no such thing as too much depth. For example, the 49ers have to feel better about their quarterback position with high-potential rookie Trey Lance likely to open the season as Jimmy Garoppolo's backup. That's a better backup situation than the team had in recent years.
At running back, San Francisco didn't just add veteran Wayne Gallman, who may be a severely underrated signing.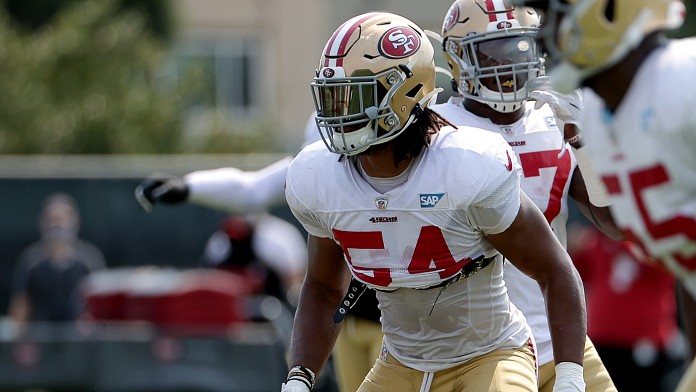 'Just more competition': 49ers' Fred Warner excited to face Rams' Matthew Stafford
By David Bonilla
Jul 25, 2021
Kyle Shanahan would have liked to look into the possibility of adding Matthew Stafford this offseason. He was shocked by how quickly the deal between the Detroit Lions and the Las Angeles Rams went down. As a result, Shanahan never got a chance to get his team into the mix.
"I was trying to get involved in it," Shanahan shared earlier this month, sharing that he thought he had more time to do so.
But it was too late. The trade was on its way to being completed.
Now, Stafford is in the NFC West, and the San Francisco 49ers will have to face the veteran quarterback twice a season. News of the trade was shocking to many, especially those within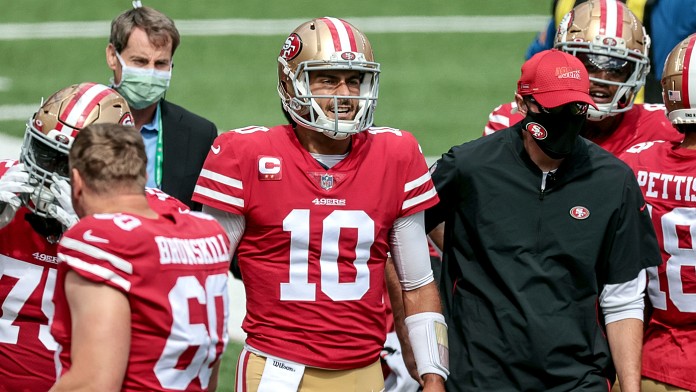 Jimmy Garoppolo's ankle was 'an inch away from just snapping' last season, says 49ers' Trent Williams
By David Bonilla
Jul 27, 2021
Jimmy Garoppolo struggled to stay on the field last season, missing 10 total games as the San Francisco 49ers struggled to six wins. Trent Williams was among several players to speak to reporters today as the team reported to training camp. The offensive lineman revealed that Garoppolo's situation could have ended up being much worse.
"A lot of people didn't know his ankle was damn near less than an inch away from just snapping," Williams told reporters. "Just watching him even fight through and try to play — a guy who has accomplished so much, got a lot of money, went to a Super Bowl — he didn't have to press forward like he tried to and tried to play hurt. The guys respect that."
Garoppolo suffered his first injury — initially reported as a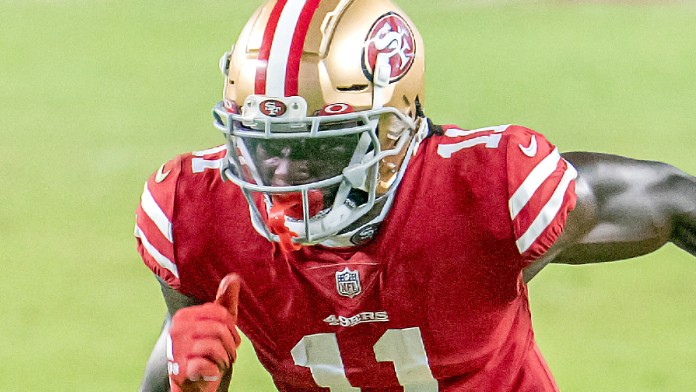 2019 49ers vs. 2021 49ers, Part 1 (Offense)
By Marc Adams
Jul 23, 2021
How well do the 2021 49ers stack up to the 2019 team?
Lately I have listened to some podcasts and read some tweets comparing the current San Francisco 49ers team (2021) to the 2019 team that fell just short of winning the Super Bowl. I find the comparison interesting. And since many people quickly assume the 2021 49ers are not as good as the 2019 team, I wanted to take a look for myself. So as we prepare for the team to report on Tuesday, let's compare the two teams, position by position. For the purpose of this very scientific experiment, we will assume everyone is healthy (even though that never happens). Let's start on offense. The defensive comparison is coming soon.
Offense
Quarterback: