Land-based and digital gaming company Everi Holdings (NYSE: EVRI) stock is started to get "discovered" by investors looking for exposure in the recovery of casino gaming and acceleration in iGaming legalization. The momentum in digital sports betting and iGaming platforms like Penn National Gaming (NASDAQ: PENN) and DraftKings (NASDAQ: DKNG) is a thriving theme in 2021 as cash strapped states seeking new tax revenue streams. While the name Everi may not seem familiar, the Company was created out of the merger of two legacy gaming companies, most notably Multimedia Games (formerly listed as MGAM), which was a top competitor to Scientific Games (NASDAQ: SGAM) and International Gaming Technologies (NYSE: IGT). The Company also provides digital wallet and payments platform for both land-based casinos and digital iGaming managements. The momentum is continuing to accelerate with the economic recovery for land-based casinos and the migration of iGaming approvals. Prudent investors looking for exposure into this trend can watch shares of Everi for opportunistic pullbacks to build a position. 
Q3 FY 2020 Earnings Release
On Nov. 2, 2020, Everi Holdings released its fiscal third-quarter 2020 results for the quarter ending September 2020. The Company reported operating income of $19.7 million compared to an operating loss of (-$52.7 million) in the prior quarter Q2 2020. Net loss was $0.01 per diluted share versus $0.12 profit per diluted share year-over-year YoY. The improvement from Q2 2020 was highlighted in the report showing adjusted EBITDA rising to $59.8 million versus $3.3 million in Q2 2020, but below the $67.7 million YoY. Free cash flow improved to $22.8 million in Q3 as the Company repaid its entire $35 million revolver. The Company ended with $235.4 million in cash and cash equivalents at the end of the quarter. Everi CEO Michael Rumbolz summed it up, "The significant sequential improvement in revenue, net income, Adjusted EBITDA and Free Cash Flow in the third quarter demonstrates a quicker than previously expected recovery to our results." Her added, "The installed base of our gaming operations premium units increased YoY by 40% in the quarter, largely reflecting a return to the strong, pre-pandemic performance levels of our active units." The Company saw cash access funding transactions and "significant year-over-year increase in sales of our self-service kiosks."
(Ad)
This oil company is creating trust in the massive trillion dollar trading world
Raised Q4 Guidance
On Jan. 26, 2021, Everi issued a surprise Q4 2020 top-line guidance raise for the quarter ending December 2020. The Company sees revenues between $117 million to $121 million versus the $115.26 million consensus analyst estimates. Losses for Q4 are expected in the range of (-$1.4 million to -$0.03 million) versus YoY net losses of (-$4.1 million). Adjusted EBITDA will range between $60 million to $62 million compared to $63.2 million YoY.
Acceleration of iGaming
The legalization of online gambling, now referred to as iGaming is still relegated to individual states. On Jan. 29, 2021, the state of Michigan became the third state in the U.S. to approve iGaming, behind New Jersey and Pennsylvania. Pennsylvania and New Jersey are seeing triple digit month-over-month gains from iGaming. Consolidated properties are also finding ways to integrate jackpots through interstate liquidity pools. Ultimately, the movement towards federal legalization would be the ultimate jackpot for iGaming companies. With each state that approves iGaming, stocks in the industry experience spikes. Everi has just reached it 2021 pre-COVID levels but still far behind rivals IGT, SGMS and GAN Limited (NASDAQ: GAN). Prudent investors can watch for opportunistic pullbacks for entries.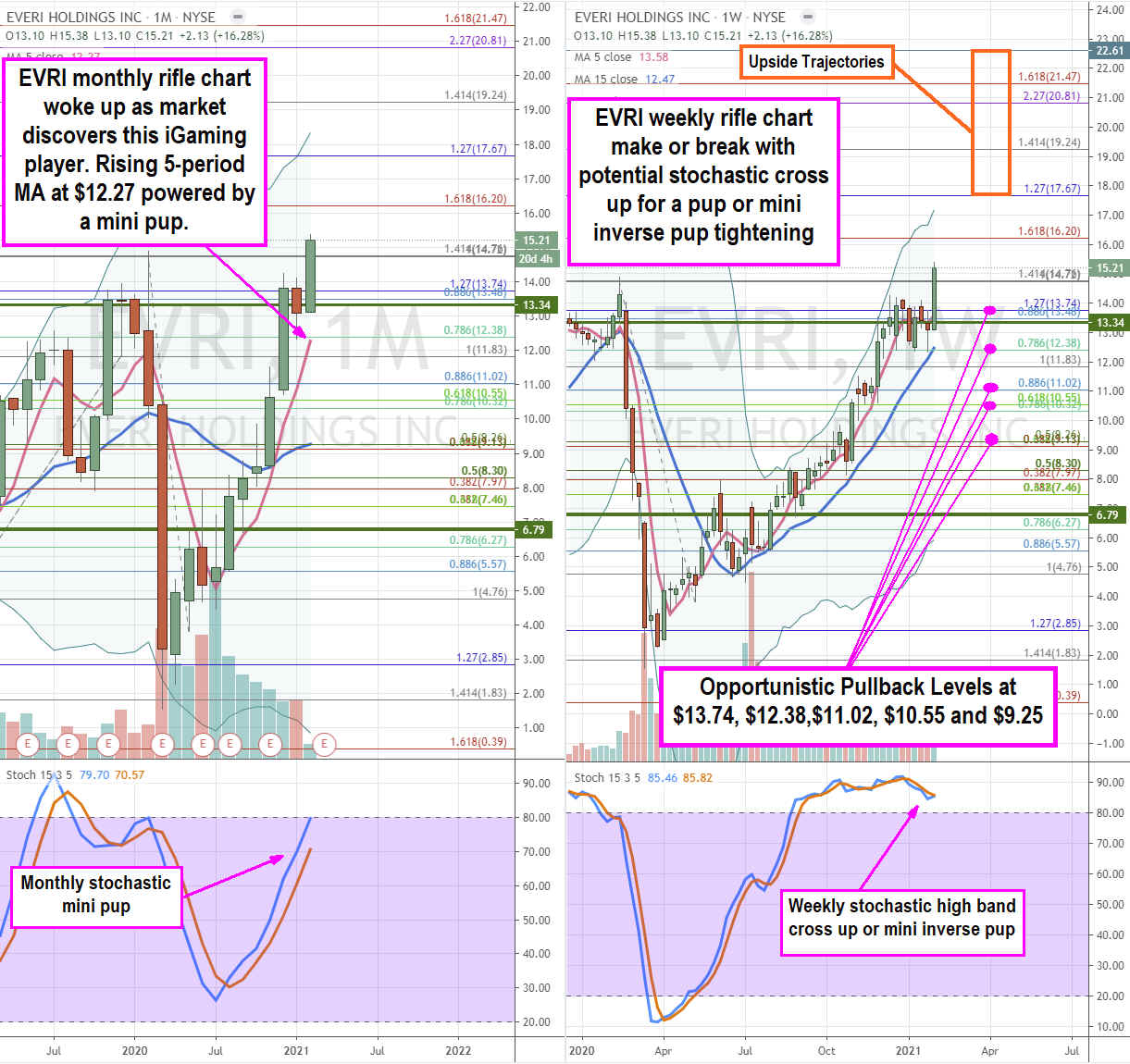 EVRI Opportunistic Pullback Levels
Using the rifle charts on the monthly and weekly time frames provides a broader view of the playing field for EVRI shares. The monthly rifle chart formed a mini pup breakout on the break through the $9.26  Fibonacci (fib) level. with a rising 5-period moving average (MA) support at the $12.38 fib and upper Bollinger Bands at $18.34. The weekly rifle chart has been climbing since triggering the monthly market structure low (MSL) above $6.79 and a daily MSL trigger back above $13.34. The near-term price spike is expensive as measured by the above 80-band weekly stochastic, but on a wider time frame basis, shares are just recovering to pre-COVID 19 levels. Prudent investors can monitor opportunistic pullback levels at the $13.74 fib, $12.38 fib, $11.02 fib, $10.55 fib, and the $9.25 fib. Nimble traders looking for a sooner entry can try the $14.78 fib. The upside trajectories range from the $17.67 fib up towards the $22.50s level. It's prudent to keep an eye on IGT, SGMS and GAN peers to gauge price action for the group.
Companies Mentioned in This Article
Compare These Stocks  Add These Stocks to My Watchlist 
7 Tech Stocks To Buy On Sale
This too shall pass. Those four words should be taped to the computer screen of every investor. If you own shares of the tech sector, you've seen your portfolio take quite a hit. Tech stocks were largely immune from the effects of the pandemic.
However, as investors are looking to rebalance their portfolios, tech stocks were obvious targets for some profit-taking. And at the end of the day, that's what I believe the latest tech selloff amounts to. Stocks don't move in one direction all the time. Sure, there may be some saber-rattling about breaking up big tech. But with an election in less than two months, nobody will have the political will to do anything.
That doesn't mean that it's all going to be smooth sailing. Sure, the Federal Reserve did its part by promising low-interest rates until the end of time (or at least through 2023 whatever comes first). But the rest of 2020 is likely to be volatile for stocks.
First, there's still the novel coronavirus hanging around. It's not going to simply disappear after election day. That will take some combination of a vaccine and/or therapeutic. And all the likely candidates seem to be getting farther away the deeper into clinical trials they get.
And we have an election. But we are not likely to know the winner of the election on election night. In fact, for those who remember the spectacle of "hanging chads", this election could make that one look like amateur hour.
The bottom line is there will be uncertainty. But there are always gains to be found, particularly now that their stock price has come down a little bit. Here are seven tech stocks that you can look to add or increase a position in now that they're trading at a discount.
View the "7 Tech Stocks To Buy On Sale".
[ad_2]